TruSculpt vs Coolsculpting – Non Surgical Body Contouring
TruSculpt – Non Surgical Fat Reduction
Do you struggle with stubborn areas of fat? Do you diet and exercise, but still can't get rid of that muffin top or love handles? Whether it's your stomach, love handles, outer thighs, or double chin, Aestheticare Med Spa has a treatment option for you.
At Aestheticare Med Spa, we offer truSculpt treatments as an option to permanently remove fat cells. Most everyone has heard about Coolsculpting as a fat removal option since it is readily advertised on television and in magazines. Although truSculpt is not advertised as much, it provides more consistent results and can be used to treat fat anywhere on the body.
Both truSculpt and Coolsculpting are FDA-approved non-invasive alternatives to liposuction. They both permanently destroy 20-25% of fat cells with each treatment. Whether you are undergoing a truSculpt or Coolsculpting treatment, it typically takes 3 treatments to achieve ideal results. See below truSculpt before and after results.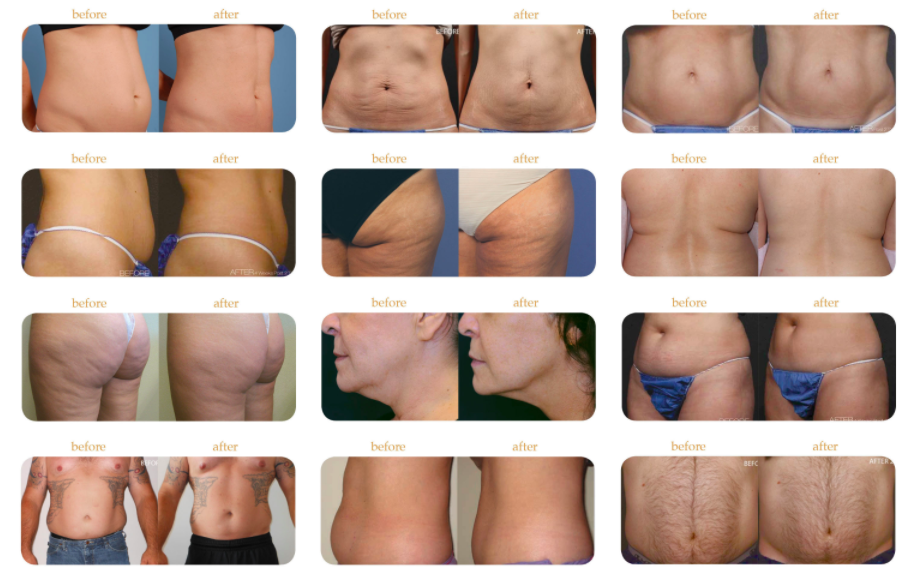 Coolsculpting freezes the fat cells in a process known as cryolipolysis. Coolsculpting has customized applicators to treat the abdomen, love handles, inner and outer thighs, bra fat and back fat. These applicators require the area that is being treated to be "pinchable", limiting some patients from treating certain areas.
truSculpt heats the fat cells to destruction, but also adds skin tightening and textural improvements to the areas being treated. While Coolsculpting uses cold to get rid of fat, truSculpt uses radiofrequency heat. This radiofrequency also allows truSculpt to treat skin laxity and texture. truSculpt is commonly used to treat the abdomen, love handles, inner and outer thighs, knee fat, arms, bra fat, the area of fat below the buttock, and double chin. Because trusculpt does not need the area to be treated to be "pinchable" it can be used to treat anywhere on the body where there is fat.
Benefits of truSculpt over Coolsculpting
Both truSculpt and Coolsculpting are non-invasive fat removal treatment option that do truly produce permanent fat removal results. There are two main benefits of truSculpt: (1) it has the capability of treat fat ANYWHERE on the body and (2) it provides skin tightening and textural improvement (think cellulite) to the area being treated. The ability to treat anywhere on the body allows patients to treat even the smallest area of fat with success. The skin tightening is a great secondary benefit to target those loose skin that result after pregnancy, weight fluctuations or due to aging. Coolsculpting limits the patient to which areas can be treated and will not tighten the surrounding skin, hence why Aestheticare Med Spa prefers truSculpt over Coolsculpting as the best non-invasive fat removal procedure.
AesthetiCare MedSpa
At AesthetiCare Med Spa, we recognize that skin health is a blend of science and artistry.
We invite you to take a look at what we offer as well as schedule a complimentary consultation for your aesthetic goals with AesthetiCare Med Spa.
---
Featured Services