Wishing you could have facelift results without the surgical facelift? Now you can! We offer absorbable PDO threads to provide natural results via a non-invasive lunchtime treatment. PDO thread lift  gives instant skin lifting. It is the answer to loose and sagging skin, without having to undergo the risks of surgery.
Restoring the V-shape
A beautiful, youhtful, and healthy face has a "V-shape". As we age the breakdown of collagen and the action of gravity diminishes the "V-shape" or causes it to invert. The idea behind the PDO thread technique is to either create a scaffolding in order to support the tissues and keep them in the "V-shape" or to delicately lift the tissues and reposition the skin to recreate the "V-shape" when it has been lost.

Although PDO threads can be inserted almost anywhere on the body, one area where they are especially effective is the neck and jaw line. The lower third of the face can be challenging to treat effectively with neuromodulators like Botox or injectable fillers. PDO threads are a great treatment option to treat the lower face and neck, while incorporating Botox and fillers to the upper and middle third of the face.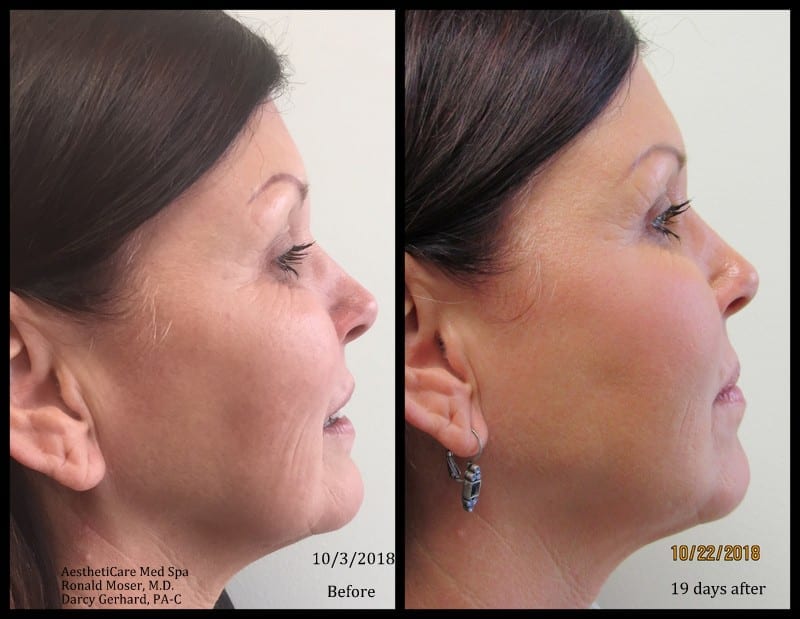 What are PDO threads?
PDO stands for polydioxanone, which is a synthetic absorbable surgical suture, also known as a thread. PDO sutures have been used to perform cardiothoracic surgery, such as open heart surgery, for over thirty years and is one of the safest materials to be implanted in the body.
Once the PDO threads have been inserted into the tissue, your skin will fully absorb it within 4 to 6 months and won't leave you with any scar tissue. Your body will continue to produce new collagen from the placement of these threads, allowing the results to last anywhere from 12 to 18 months.

How does it work?
Controlled Healing
Medically speaking, the PDO threads create a selective inflammatory response, just as other aesthetic treatments like Fractional laser, Chemical Peels, and Microneedling do. Our skin is very good at repairing itself. Inserting the PDO threads triggers your body to "heal" itself by creating new collagen naturally. During the 4 to 6 months needed to fully reabsorb the PDO thread, your skin is also repairing itself around it, allowing the results to last up to 12 to 18 months.
Mesh or Lift

There are three types of procedures with PDO threads:
Smooth threads consist of creating a mesh under the skin. This mesh will serve as the foundation for our new collagen production. This technique tightens the skin naturally from within. The results appear gradually, without a drastic change.
Twist threads are similar to smooth threads in that they also cause your body to produce new collagen. The twist threads add volume to an area and are often used to fill in folds that typically occur at the nasolabial and marionette regions. They can also be used to augment lip volume or replace volume loss at the tear trough region.
Barbed threads are utilized to produce more of a dramatic, instantaneous effect. The PDO threads have very tiny barbs that provide grip underneath the skin. This grip allows you to lift the face, combating areas that sag or hang. Just like the smooth and twist threads, the skin will then build new collagen which will secure the lift.
Majority of patients will use a combination of these threads to achieve the desired result. Maintenance treatments every 4 to 6 months may also be recommended in order to allow your results to last even longer.
What areas can be treated with PDO threads?
The PDO thread lift is very versatile and is not only limited to treatment of the face and neck. We are able to treat areas of the body also.
Face/Neck:
under eye area
brow lift
crow's feet
cheeks
nasolabial folds
marionette lines
wrinkles around the mouth
smile lines
lips
jaw line
jowls
neck
Body:
knees
elbows
"batwings"
chest wrinkles
abdominal skin laxity
thigh lift
AesthetiCare MedSpa
At AesthetiCare Med Spa, we recognize that skin health is a blend of science and artistry.
We invite you to take a look at what we offer as well as schedule a complimentary consultation for your aesthetic goals with AesthetiCare Med Spa.
---
Featured Services