BOTOX® Cosmetic
Wrinkles, creases, and fine lines can dramatically age your facial appearance or imply anger and confusion. Crow's feet, forehead lines, frown lines (furrows between the brows), and drooping brows all result from stress, strained eyesight, smiling and laughing, sun damage, and other environmental factors as we age. Aging can also manifest as upper lip lines, a down-turned smile, a cobblestone "orange peel" chin, and prominent neck banding.
A neuromodulator known as BOTOX® Cosmetic is an injectable treatment that can help alleviate these signs of aging for a smoother, more youthful appearance.
What Are the Benefits of BOTOX® Cosmetic?
What Is the BOTOX® Cosmetic Treatment Process?
During your consultation, your aesthetic provider at AesthetiCare will examine your facial anatomy and listen to your concerns and goals for the procedure. You will discuss your medical history and allergies along with any potential side effects associated with BOTOX® Cosmetic. If this treatment is right for you, then the treatment areas will be determined.
Ice may be gently applied before and after your injections to reduce the risk of bruising and to lessen discomfort. The number of doses will vary from patient to patient depending on muscle action and expectations of the outcome. The entire treatment is relatively quick and virtually painless. Patients can go home immediately after their treatment.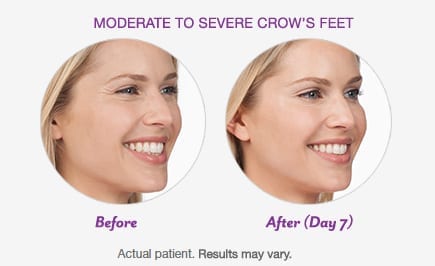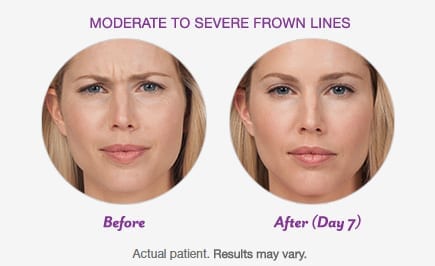 You may experience mild side effects, which may include minimal redness, bruising, and swelling. You should avoid any strenuous exercise and lying flat for at least four hours following treatment. Applying any direct pressure to the face (massage, wearing swim goggles or baseball caps, etc.) should be prevented for the first three or four days after treatment to reduce the risk of solution migration.
There are no incisions involved with BOTOX® Cosmetic treatment. The needle utilized for injections are skinny, and the skin heals quickly.
The areas being treated and how many doses are needed will determine your cost for this treatment. Your medical provider at AesthetiCare will provide a cost estimate that reflects your unique treatment plan during your consultation. We offer many different financing options for patients who qualify.
We do not use anesthesia or pain medication for this treatment. BOTOX® Cosmetic is designed to be a comfortable and minimally invasive way to address facial aging and other concerns. You may experience some discomfort after your treatment, which should diminish within a day or two.
Frequently Asked Questions