Lip enhancement with dermal fillers is a non-surgical procedure that restores lip volume, can build shape and contouring, and give a more youthful look to aging or thin lips. If you are interested in this procedure, contact AesthetiCare to schedule your consultation in Orange County, San Diego, or Riverside.
---
ARE YOU A CANDIDATE FOR LIP ENHANCEMENT ?
Almost anyone over 18 years can be a candidate for lip enhancement.  Most important is to have a realistic expectation about the outcome!
Lips that have lost fullness or were simply thin to begin with, lips that are wrinkled from sun and aging, or asymmetric without shape can all be enhanced with dermal fillers.
---
WHAT TO EXPECT DURING THE LIP ENHANCEMENT  PROCEDURE
Discussing your preferences and expectations of lip augmentation will help to determine which hyaluronic acid filler would be best for your procedure.. All of the products contain lidocaine for a gentle anesthetic. A topical local anesthetic and ice may be used as well to reduce the risk of bruising and bleeding and to enhance the comfort of the treatment.
---
RESULTS OF LIP ENHANCEMENT TREATMENTS
Although the results of lip enhancement injections are noticeable immediately, they will look even better in a week and best in a month! Results can last from 6-12 months. The final effect is largely a result of your inherit lip shape, but certain qualities of lip enhancement can evolve with preferred techniques as seen in the photos.
A  voluptuous volume with the upper lip full and the lower lip pouty.
A pronounced Cupid's bow will give a deeply defined " V"
Smoothing and evening the contour of both lips
Sharply defined and slightly turned up lip borders
Perfectly symmetrical lips on both sides and a balance of the top and bottom
Upturned corners of the mouth, giving a smiling appearance.
Pronouncing the ridge connecting your upper lip to your nose to curve the upper lip upward.
---
LIP ENHANCEMENT RECOVERY
In general, eliminating any over-the-counter anti-inflammatory medications (i.e. aspirin, Alleve, Motrin, ibuprofen), as well as supplements such as green tea, fish oils, gingko, ginseng, and garlic will help to reduce the risk of bleeding and minimize bruising and swelling. It is best NOT to smoke before and after lip enhancement treatments as well, if possible. Results will continue to improve up to 2 weeks following injections. It is best NOT to massage the treatment area.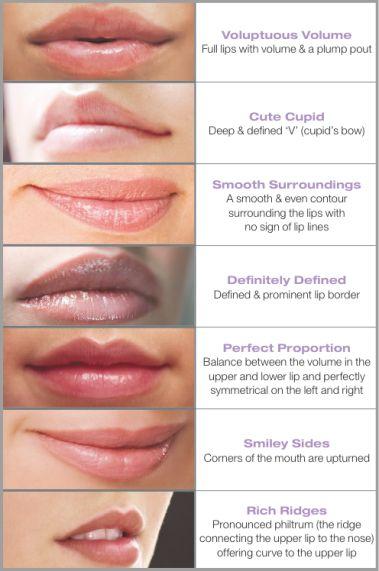 Contact AesthetiCare
"*" indicates required fields
By contacting Aestheticare, you give us permission to contact you back by email, telephone or text messaging at no charge to you.
---
Featured Surgical Procedures
AesthetiCare MedSpa
At AesthetiCare Med Spa, we recognize that skin health is a blend of science and artistry.
We invite you to take a look at what we offer as well as schedule a complimentary consultation for your aesthetic goals with AesthetiCare Med Spa.
---
Featured Services