How Safe Is a Tummy Tuck Procedure?
3 Minute Read: 
Abdominoplasty, also known as tummy tuck surgery, has been around for a long time and, when performed by a highly reputable and experienced cosmetic surgeon, is a safe procedure.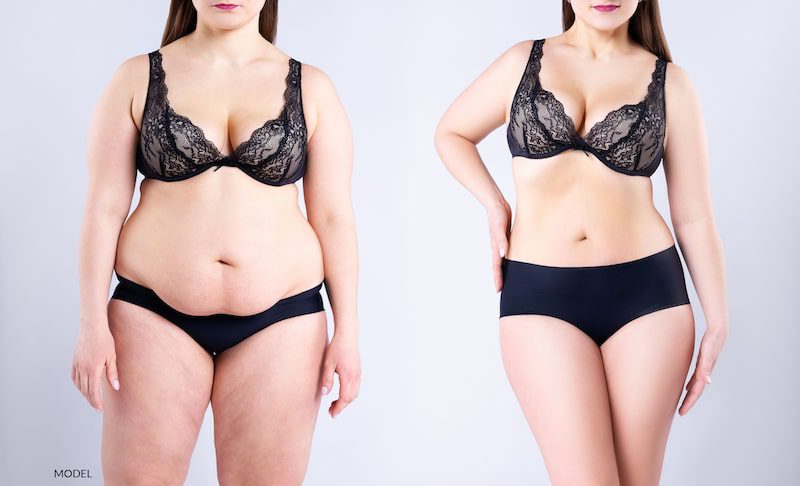 However, as with all surgical procedures, there are risks.
Common
Tummy Tuck Risks
When performed by a qualified surgeon, the following risks are uncommon but can occur:
Changes in skin sensation and numbness

Death of fatty tissue under the skin (fat necrosis)

Deep vein thrombosis

Discoloration of skin

Excessive bleeding

Excessive fluid accumulation (seroma)

Extensive scarring

Infection

Poor incision healing

Prolonged pain

Prolonged swelling

Puckering at the edges of the incision/scar
The most common anesthesia complications are caused by the patient eating or drinking prior to surgery. This is why it is essential to follow all pre-surgery instructions, including the amount of time to fast before your procedure.
How to
Reduce Your Risk of Tummy Tuck Complications
The most important thing you can do to reduce your risk of experiencing an adverse event during or after tummy tuck surgery is to be honest with your surgeon and follow all the pre-surgical instructions carefully. 
You will be asked about your medical history and whether or not you use tobacco products. Smoking and nicotine exposure significantly increases your risk of serious complications, interferes with the healing process, and can lead to undesirable results. Wound healing problems are the most common risk associated with tobacco use.
You also need to complete your pre-surgery testing to clear you for the procedure. A well-respected surgeon will not perform the surgery if this testing is not done.
Being as close as possible to your ideal weight is also advised and can increase the safety of the surgery.
Where to Receive a Tummy Tuck in
Southern California
Dr. Ronald Moser is a highly respected cosmetic surgeon who provides abdominoplasty (tummy tuck surgery) in Newport Beach, San Juan Capistrano, Corona, and Encinitas. 
Dr. Moser offers three tummy tuck options to meet your needs, including:
Mini tummy tuck

Full tummy tuck

Extended tummy tuck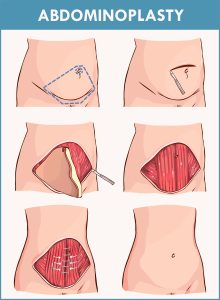 During a full tummy tuck, Dr. Moser makes an incision above the pubic area (at the bikini line) and around the belly button to remove excess abdominal skin and fat while repositioning and tightening the upper and lower abdominal muscles.
During a mini tummy tuck, he will remove excess skin and fat while addressing muscle looseness below the navel using a single, shorter incision along the bikini line.
During an extended tummy tuck, excess skin and fat around the abdomen, hips, and back is removed through a larger incision that extends around the hips and to the back.
Interested in a Cosmetic Surgery Procedure at AesthetiCare?
Dr. Moser also offers a wide range of cosmetic breast surgeries like breast augmentation surgery and breast lifts for women who want to combine one of these procedures with their tummy tuck for a complete Mommy Makeover.
With cosmetic surgery offices in Corona, Newport Beach, San Juan Capistrano, and Encinitas, you can opt to visit us at a location close to you for an in-depth consultation.
Learn more about Dr. Moser and AesthetiCare and our cosmetic surgery costs by checking out the answers to our frequently asked questions.
You can also schedule a consultation at one of our offices online by filling out our contact form.
Contact AesthetiCare
"*" indicates required fields
By contacting Aestheticare, you give us permission to contact you back by email, telephone or text messaging at no charge to you.
---
Featured Surgical Procedures
AesthetiCare MedSpa
At AesthetiCare Med Spa, we recognize that skin health is a blend of science and artistry.
We invite you to take a look at what we offer as well as schedule a complimentary consultation for your aesthetic goals with AesthetiCare Med Spa.
---
Featured Services