Breast Implant Replacement
The last thing a woman thinks about when considering breast augmentation surgery is how long the implants will last and if they will ever have to be replaced. However, these are essential questions to ask your surgeon at your consultation appointment. The answer to these questions may impact the desired outcome you are looking for from a breast augmentation procedure.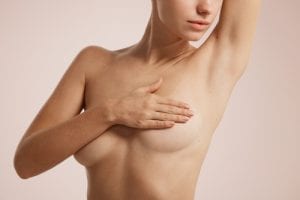 How Long Do Implants Last?
Breast implants do not last forever, and they may need to be replaced sometime in the future. Though implants were not meant to last a lifetime, modern advancements have allowed implants to last longer than ever before. However, if the patient has no signs of complications, then there really is no reason to have the breast implant replaced. Approximately 80 percent of patients will not have any complications with their breast implants well beyond the 10-year mark, and some implants can even last decades without experiencing any issues. Yet other patients' implants may need to be replaced in as short as seven years. In fact, there is no set timeframe for when to replace an implant, though on average, implants last between 10 and 20 years.
When Do Implants Need to Be Checked?
The two most popular materials used for breast implants are saline and silicone gel. Typically, saline implants do not need any special regular check-ups. If the implant ruptures or leaks over time, the patient will notice the breast begin to decrease in size. If a rupture occurs, the body will absorb the fluid. There is no risk of infection if this should happen. However, for silicone gel implants, we recommend you visit us every two to three years to check for a rupture or for leaks as it is harder to detect these problems with silicone gel implants. While there is no real risk or danger from a leak, the body does not absorb the silicone gel, and this must be removed by your surgeon.
Reasons Implants Need to Be Replaced
Over time, the integrity of your implants will deteriorate, and the exterior of the implants may grow weak, which will cause them to leak or rupture. This is the main reason why one or both breast implants will more than likely need to be replaced at some point in your lifetime. Some patients will need to have their breast implants removed or replaced due to infection, which is rare, while others may choose to change the size of their implants over time.
For more information about breast implant replacement, or to schedule a consultation, contact Aestheticare Cosmetic Surgery Institute at (800) 662-1055.
Contact AesthetiCare
By contacting Aestheticare, you give us permission to contact you back by email, telephone or text messaging at no charge to you.
---
Featured Surgical Procedures
AesthetiCare MedSpa
At AesthetiCare Med Spa, we recognize that skin health is a blend of science and artistry.
We invite you to take a look at what we offer as well as schedule a complimentary consultation for your aesthetic goals with AesthetiCare Med Spa.
---
Featured Services